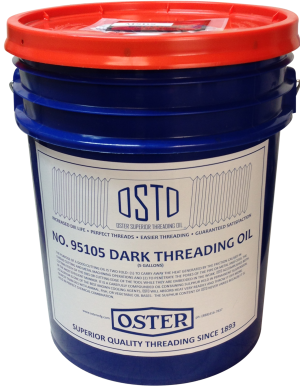 No. 95105 – 5 Gallon Bucket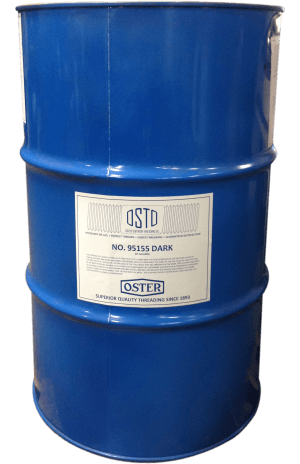 No. 95155 – 55 Gallon Drum
OSTO Dark Threading Oil
Benefits of Using "OSTO" Oster's Superior Threading Oil
INCREASES DIE LIFE. By enabling you to use your threading dies longer, with fewer resharpenings it increases profits.
ENSURES PERFECT THREADS. You get sharp, clean cut threads, every time, when you use "OSTO."
PREVENTS CHIP WELDING. Our special formula insures proper metal film lubrication and prevents chip waste from fusing to the tooling surface therefore preventing excessive tool wear and breakage.
CLING IS KING! Formulated to have a vise-like grip on the work material our oil insures that the cutting surface is always lubricated and tooling is flooded with coolant.
INFINITE SHELF LIFE "OSTO" never goes bad and doesn't break down during the threading process.
Don't be fooled by Inferior Products! Water soluble won't work for cutting fluids! 
Many products claim to be the ultimate in cutting fluids but don't be fooled. Radial thread-cutting is not your run of the mill operation and radial pipe and bolt threading machines require a more robust solution than run of the mill coolants. Because our machines are so simple to operate it's sometimes easy to forget about the extreme forces involved in radial thread-cutting. Water soluble solutions do not work and neither will new clear "oils" you might see on the shelf elsewhere.
"OSTO"- Oster's Superior Threading Oil dominates the competition. For many years Oster Bestoil was our favored choice, but a few years ago we felt it wasn't where we wanted to be so we dug through the old records and rediscovered the old formula. We went back to basics and increased the sulfur, chlorine and animal fat content to provide a thread cutting oil that is as densely packed with active agents as we could get it. Compare "OSTO" to Oster Bestoil 95116 and 95117, Ridgid Dark Threading Oil, Ridgid Nu Clear or LANCUT 00230043 Thread Cutting oil and we guarantee you'll be happier with "OSTO."
A heavy-duty operation requires a heavy-duty cutting fluid. For quality threads and longer die life - Always use "OSTO."
Click here to request information or get a quote.
The Purpose of Good Thread Cutting Oil
The purpose of a good cutting oil is two fold: (1) To prevent chip welding and in turn prevent breaking teeth and (2) to penetrate the pores of the pipe or metal and cool the cutting teeth of the dies or cutting edge of the tool while they are embedded in the work. Oster's Superior Threading Oil accomplishes both in the most efficient manner. It is a carefully compounded oil containing sulfur, chlorinated paraffin and special clinging agents held in permanent suspension. These chemicals in proper concentration work to both cool the work and to promote metal film lubrication which reduces chip welding. "OSTO" will outperform any synthetic because it has anti-chip welding agents and better adhesion to the material surface. The sulfur content of "OSTO" never varies because it is held in perfect chemical combination.
Applications for Dark Threading Oil
Pipe Threading Oil
Bolt Threading Oil
Stainless Steel Pipe Threading
Stainless Steel Bolt Threading
Drilling Lubricant
Tapping Fluid
Broaching
Metal Cutting