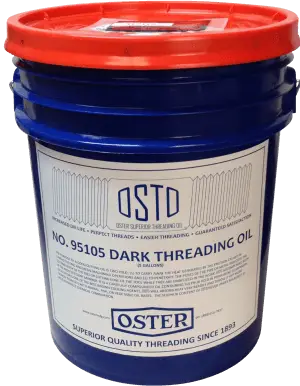 No. 95105 – 5 Gallon Bucket
Dark Thread Cutting Oil
Heavy-duty cutting oil is used to create clean threads on metal rods and pipes. Especially ideal for ferrous metals such as steel, dark thread cutting oil keeps threads cool and reduces friction during threading.
Oster's Superior Threading Oil (OSTO) is Oster's favored choice of thread cutting oil. Our unique blend of sulfur, chlorine, and animal fats with our oil formula has helped us create premium-quality cutting oil. We are pleased to offer OSTO cutting oil for your metal threading needs.
Contact us with any questions or call us at 1-800-416-7837, and our team will be happy to assist you.
Advantages of Heavy-Duty Cutting Oil
Quality cutting oil is essential for thread-cutting processes. Thread cutting oil prevents chip welding and the breaking of teeth, which ensures clean cuts while extending the lifespan of the cutting machine. The lubrication prevents friction and reduces the level of heat generated through cutting. Additionally, it can cool the cutting teeth or dies by penetrating the pores of the metal rods or pipes.
Benefits of Oster's Superior Threading Oil
OSTO cutting oil features many benefits, which include:
Increased die life: Less die resharpening leads to increased profits.
Perfect threads: Sharp, clean threads and a smooth finish are guaranteed.
Prevents chip welding: The formula ensures proper metal lubrication and prevents chip waste from fusing to the tooling surface. This also prevents tool wear and breakage.
Cling: The oil grips the work material and constantly lubricates and cools the cutting surface.
Infinite shelf life: OSTO does not break down during the threading process and does not spoil.
The OSTO Thread Cutting Oil Difference
Oster is proud to provide a dark thread cutting oil with a unique blend of sulfur, chlorinated paraffin, and special clinging agents for premium quality. These chemicals cool the workpiece while promoting lubrication to reduce chip welding. OSTO contains anti-chip welding agents and has strong adhesion to material surfaces.
Applications of Dark Thread Cutting Oil
OSTO dark threading oil is suitable for many applications, including:
Pipe Threading Oil
Bolt Threading Oil
Stainless Steel Pipe Threading
Stainless Steel Bolt Threading

Drilling Lubricant
Tapping Fluid
Broaching
Metal Cutting
Oster's dark cutting oil is a premium threading oil that provides high-quality cutting results.
Oster is a Leading Supplier of Industrial Pipe Machines & Accessories
Over 125 years of threading innovation and excellence have helped Oster set the standard for quality industrial bolt threading machines. With additional accessories like die heads and oils available, Oster is your helpful solution for all your threading needs.
Contact us with any questions or request a quote today to get started!