Pipe and Bolt Threading Machines for Manufacturing
High production pipe and bolt threading machines produce exemplary parts for several manufacturing sectors. We specialize in heavy-duty, long lasting equipment that will withstand the rigorous environment of a production-oriented pipe or rod threading application. Our high-performance pipe and bolt threading equipment provides the precision and fabrication capabilities needed to meet all your industrial demands.
We have machines for the threading of all major thread forms, including:
NPT
NPTF
NPS
NPSF
NPSL
BSPT
BSPP

UNC
UNF
8UN
12UN
Metric Coarse
Metric Fine
ACME
Our machines can also create multiple lead threads when called for. Oster Threading Machines also service a variety of different materials including Steel, Stainless Steel, Copper, Brass, Red Brass, Cast Iron, PVC and more.
Regardless of your industry, Oster's selection of high-production, high-quality threading machines offers the value and longevity that makes our industrial threading solutions a worthwhile investment. Contact us to learn more about our bolt, pipe, and rod threading capabilities. 
Pipe and Bolt Threading Machine Industry Applications
Check Out The High-Efficiency
792ALX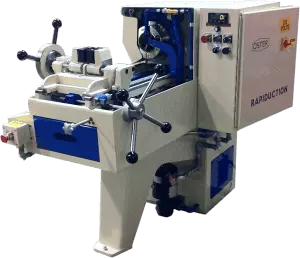 Bolt range 1/4" to 2" capacity
Pipe range 1/8" to 2" capacity
Made in the USA
See Product Details
Fire Sprinkler Pipe Threading Machine
Oster Pipe Threading Machines have long been used by the fire sprinkler fabrication industry. Used in the threading of black steel pipe and galvanized steel pipe for installation in fire sprinkler systems Oster threading machines prove to be a reliable workhorse and can thread a skyscraper floor sized lot of pipe in a day with ease.
Anchor Bolt Threading Machine
Our Bolt Threading Machines are absolute champions when employed in anchor bolt threading applications. Capable of threading NC threads in a single pass and with thread lengths of up to 25" in a single pass Oster bolt threading machines are unparalleled in their field.
Pipe & Bolt Threading Machines for Industrial Applications
Our heavy-duty pipe and bolt threading machines are used throughout all industries and applications. From manufacturing facilities to pharmaceutical plants, most every industrial application requires precision threads to connect and/or secure various components together. Oster supplies bolt and pipe threading machines that maintain the highest level of durability and consistency in even the harshest of environments.
Custom Bolt and Rod Threading Machine for Custom Applications
Custom Bolt Threading Machines excel at custom rod threading and niche threaded part manufacturing. With single-pass thread cutting regardless of thread length our bolt threading machines outperform lathes in most instances and don't require a highly trained operator.
We also provide engineered thread cutting solutions for custom applications.
Decorative & Plated Pipe Threading Machine
With a variety of different vise jaws available on our rotating die head threading machines, we can thread pipe with decorative plating such as chrome. Our special grips prevent chipping or damage to the plating material.
Discuss Your Pipe and Bolt Threading Machine Needs with Us Today
With industrial-grade threading expertise that spans over 125 years, Oster Manufacturing is dedicated to manufacturing high-performance threading equipment. We offer the value, reliability, and quality needed in a high production threading machine.
Order your pipe, bolt, or rod threading machine or discuss your application needs with us today.