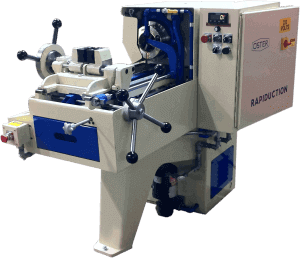 The Highest Quality Production Oriented Pipe & Bolt Threading Machines
What makes Oster Threading machines the Best production oriented Pipe & Bolt Threading machines on the market?
Highest level of quality – 100% American Made & Manufactured
Oster Pipe and Bolt threading machines are manufactured with a reverence for the quality equipment of the past. Planned obsolescence is not in our vocabulary at the Oster plant. Our goal is to manufacture pipe and bolt threading machines that last for generations. We don't cut corners, and always put quality before making an extra buck. Oster uses the highest quality materials from American suppliers. All of our cast parts come out of Toledo, Ohio and everything is machined in house in our Owosso, Michigan facility. Quality is our primary goal and we are constantly looking for ways to improve our equipment to make sure it lasts long into the future.
Longevity – Are you tired of breakdowns and maintenance headaches?
As mentioned previously Oster Pipe & Bolt threading machines are engineered to withstand the rigors of a production environment for decades. Our goal is not to have you replacing your threading machine every 2 or 3 years with a new one, our goal is for you to buy one machine and have it still be running when the next generation takes the helm. This mindset of quality and longevity influences our process every step of the way. Oster Pipe and Bolt threading machines already have a reputation of longevity and that is a legacy we continue to uphold. We regularly receive calls for parts and tooling for Oster threading machines that are over 50 years old! Plumber and jobsite machines that are popular today are simply no match for the quality and longevity of an Oster threading machine. Most threading machines are not designed to be run day in and day out in a production cell, but Oster's are. Where other machines require constant attention and repair, an Oster threader will perform reliably when you need it to for years on end.
Support – We are always here to help
When you call Oster there is always a person at the other end of the phone. No answering service or annoying touchtone menus. Our trained threading specialists are on call to provide support or training over the phone whenever you need it. No matter what your question and no matter the age of your machine our dedicated technical support staff is ready to help.
Do you have a question about a special or custom application? No worries, this is our bread and butter. We are always ready to tackle an interesting project or application. We enjoy a challenge and are more than willing to come up with custom engineered solutions to your thread cutting dilemma.
We're better than the competition
Oster Pipe & Bolt threading machines are leagues ahead of the mass produced jobsite threading machines that dominate the market today. Oster threading machines produce faster, last longer and have better support. Oster machines do not require a skilled operator to run them. No special certification or CNC training is required. With a few hours training anyone can master an Oster threading machine.
In addition to Oster Pipe & Bolt threading machines being easy to operate they are also highly productive. The Oster 792ALX is capable of threading up to 200 ends per hour. On this machine the diehead rotates and the material is stationary so there is no reason to start and stop the spindle between work pieces allowing for much higher production. Oster pipe and bolt threading machines also feature quick changeover times between work piece sizes.
When weighed against the cost of replacing and rebuilding less durable machines it doesn't take long for an Oster threading machine to pay for itself with faster production times and more reliable service.